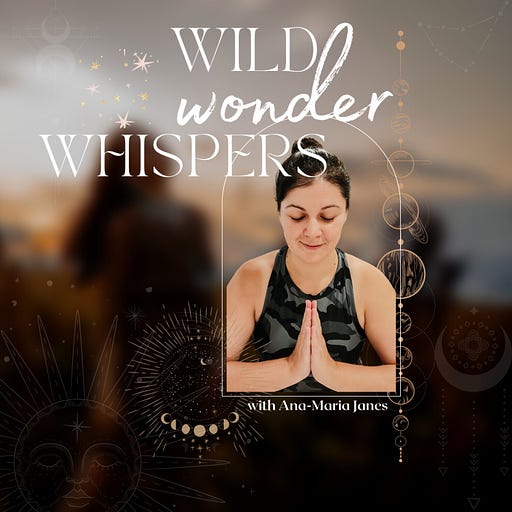 Jan 22 • 11M
What is Wintering
And the surprising reason you can't stick to your new year resolution
The Wild Wonder Whispers Podcast is an exploration of possibilities and brings light to the messy process of the Return to Self. We talk about spirituality, personal development, energy healing, parenting, relationships, and what it means to build a prosperous business rooted in integrity and service to Self and the collective. They are all connected to shifting your life to one that you absolutely LOVE living. What happens when we go within, listen and begin to action our sacred wisdom? Everything. Hosted by Ana-Maria Janes Website: anamariajanes.com
As we are approaching the middle of the winter season in the northern hemisphere, I'm checking to see … how is your wintering going?
Wintering is a term that comes to us from naturalists who use it to describe how the fauna and flora behaviors change during winter.
When everything slows down, how are you going deeper to evaluate what is truly important to you?
Capricorn season is pretty much over. So is the impulse to create goals, meticulously consider how we are going to execute them, and the overall sense of this need to rigidly follow through is coming to a slow close.
While I am not an astrologist by any means, as I have come to understand Capricorn energy, it is very much the commander who implements and gets things done.
As we move into Aquarius, it's a very different energy … that of the cosmic visionary and of the freedom seeker.
Now does it make sense why most strict new year resolutions are abandoned when we hit Aquarius?
In your wintering journey, if you have taken the time in the last few weeks to sit with what you want to accomplish, now take advantage of the next phase of wintering where you get to embody and experiment what is the most aligned way to actually go about reaching your goals?
Have some fun and play with any new routines. Maybe try a fun way to get organized (much to my dismay, there is some truth to the saying "freedom through discipline")
There is no rush to "get it right". The invitation is to not feel defeated when you can't continue with what you initially planned. Instead, simply feel into the possibility that your wintering and integration process is not over yet.
The work to figure out your take the next best step that moves you into your joy begins now.
Have a listen to the podcast and drop into what the essence of wintering means for you.
CONNECT WITH ANA-MARIA
▷ Website - anamariajanes.com
▷ Instagram - instagram.com/wildwonderwhispers
▷ Book a Free Resonance Call - https://www.anamariajanes.com/chat
▷ Get your Soul Blueprint Book - https://anamariajanes.com/blueprint-book/
▷Work with me - https://anamariajanes.com/coaching/